*****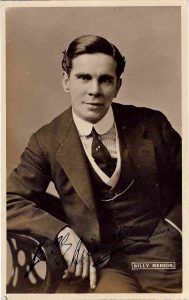 MERSON, Billy (William Henry Thompson), actor and comic vocalist;
b.Nottingham, 29 March 1881;  first appeared on the variety stage at Birmingham, 1900;  for some years toured the provinces as an acrobat and clown, under the name of Ping-Pong;  first appeared in London at the old Middlesex Music Hall, 1905;  appeared in 1909 at the Oxford;  was engaged for some time at the Hippodrome in the revue "Hullo, Tango!" 1913;  at the London Opera House, July 1916, appeared in "Look Who's Here";  at the Palace, Dec. 1918, appeared in "Hullo! America";  May 1920, in "The Whirligig";  at the Lyric, May 1922, played Matthew Platt in "Whirled into Happiness";  at the London Hippodrome, Mar. 1923, appeared in "Brighter London";  at the Palladium, Mar. 1924, in "The Whirl of the World";  at the Olympia, Liverpool, Dec. 1924, Puss in "Puss in Boots";  at Drury Lane, Mar. 1925, played Hard-Boiled Herman in "Rose Marie";  Palladium, Feb. 1926, played in "Palladium Pleasures";  entered on the management of the Shaftesbury Theatre, Nov. 1926, and produced "My Son John" in which he played Benjamin Littlewood;  London Hippodrome, July 1927, appeared in "Shake Your Feet";  Vaudeville, Jan. 1928, played Basil in "Lord Babs";  Wimbledon, Sept. 1928, and Shaftesbury, Dec. 1928, The Lad in a play of that name;  toured 1929, as Gene Curtalli in "Playmates";  1930 in variety theatres;  1931, toured in "Whirled into Happiness" and "Happy Snaps";  1932, toured in "Meet Mr. Merson";  at the Alhambra, Aug. 1932, played in "Over the Page";  Alexandra, Birmingham, Dec. 1933, appeared in "The Babes in the Wood";  toured, Oct. 1936, as Josiah Clutterbuck in "The Cinema Star";  Garrick, Southport, Dec. 1937, played Buttons in "Cinderella";  toured, 1939, as Hard-Boiled Herman in "Rose Marie";  Comedy, Jan. 1941, played Hubert Briggs in "The Blue Goose";  among his popular  songs may be mentioned "I'm Setting the Village on Fire";  "I'm Going Away";  "The Spaniard that Blighted my Life";  "The Gay Cavalier," etc.;  has appeared in films, in "The Show Goes On," "Scruffy," etc.
Recreations:  Golf and Wireless.
Billy Merson's last entry in 'Who's Who in the Theatre' (10th Edition 1947). He died on 25th June 1947.